Music Production Software: 10 Of The Best DAWs in 2017!
DAWs are the most important music production software in our day and age, and without them, a lot of our current music wouldn't even exist.
DAW stands for "Digital Audio Workstation". This is where producers spend most of their time creating a track.
That's because the DAW is the most important tool in a producer's arsenal. Any instrument, vocal, or idea is thrown together into this software and turned into a song. And you can also use it to compose, mix, and master your music.
Each DAW has a different format, and producers select them based on preference.
In some cases, a producer will find a DAW they like and stick to it for good. This is because learning all the different features in a DAW can take up to a few months.
On the other hand, there are still a lot of people who can't decide which DAW they should use. Some producers even feel trapped inside the one they've selected and may be looking for a change.
If this sounds like you, or if you'd like to explore another DAW, don't worry.  We've put together a collection of the DAW's that stood out to us the most this past year.
Of course, Ableton and FL Studio made the cut, but we've also included new software that has been overlooked.
Let's begin...
Option 1: Ableton Live
This is one of the most popular digital audio workstations in the electronic production scene for 2017.
In fact, this is the one most people recommend to producers who want to switch DAW's because of the many benefits it provides to producers.
Here are a few of those benefits...
Why We Love Ableton:
Ableton's native plugins are one of the biggest factors as to why it's on this list. With over 30+ stock audio effects, you have complete control of your track. It also offers an amazing collection of presets along with the included audio effects for quick importing.
In the suite version, you have access to 3,000+ sounds to play around with. This is significantly more than a majority of popular DAW's default soundbanks.
When you're using these sounds to create a track, you'll be thankful for the arrangement in this DAW as well. The panels are set up to make it extremely easy to access all sections of the DAW.
This improves workflow without having to close and swap windows constantly. Having your effects and instruments at the bottom is also incredibly useful for quick changes.
The crazy part is, you might not even need these panels because Ableton created the
Push 2
, which gives you control over the entire DAW without having to even look at it. External hardware support works seamlessly.
The Push 2 offers a hardware experience of the DAW while working like a step sequencer and live controller.
But just like any DAW, Ableton has some room to improve. Like we said, there is still a debate between users of other DAW's and people who are trying to convert over to Ableton.
Here are a few of the reasons people are afraid of the switch…
What Could Improve:
An issue a lot of producers have with Ableton is the GUI (Graphical User Interface). Unless you know the program well, it may come off as confusing or unpleasant, causing fear of switching or starting with this DAW.
This is primarily due to the number of buttons and programmable macros that are visible right when you open it. Once you spend a few months learning Ableton though, it becomes more familiar and less confusing.
Another confusing feature is that Ableton Live 9 sits at a whopping $799 for the professional edition. This means if you don't want to be held back by a lack of native plugins and limited tracks, you have to invest nearly a grand just for the DAW alone.
Because of the high price, Ableton could be pushing away potential buyers to other DAW's who offer similar features for half the price of Ableton.
What else could push potential buyers away? The piano roll.
The piano roll comes off as confusing as well and even ugly. Though it may be powerful, If you look at other piano rolls from DAW's like FL Studio, it doesn't compete in cleanliness and ease-of-use.
Speaking of ease-of-use, there isn't any when it comes to bouncing mp3. This is a really odd feature that Ableton left out. Most DJ's use mp3 due to file size, so you'll have to convert it from wav to mp3 after exporting it from Ableton.
However, in Ableton 10 they have added this feature! Check out our Ableton 10 overview
here!
Our Favorite Features:
Recently, they've rolled out the beta to their long-awaited version Ableton 10. So, if you're in the market for a DAW to grow with, learning Ableton 9 right now might benefit you for when they release Ableton 10.
Check out the introductory video
here
.
Option 2: FL Studio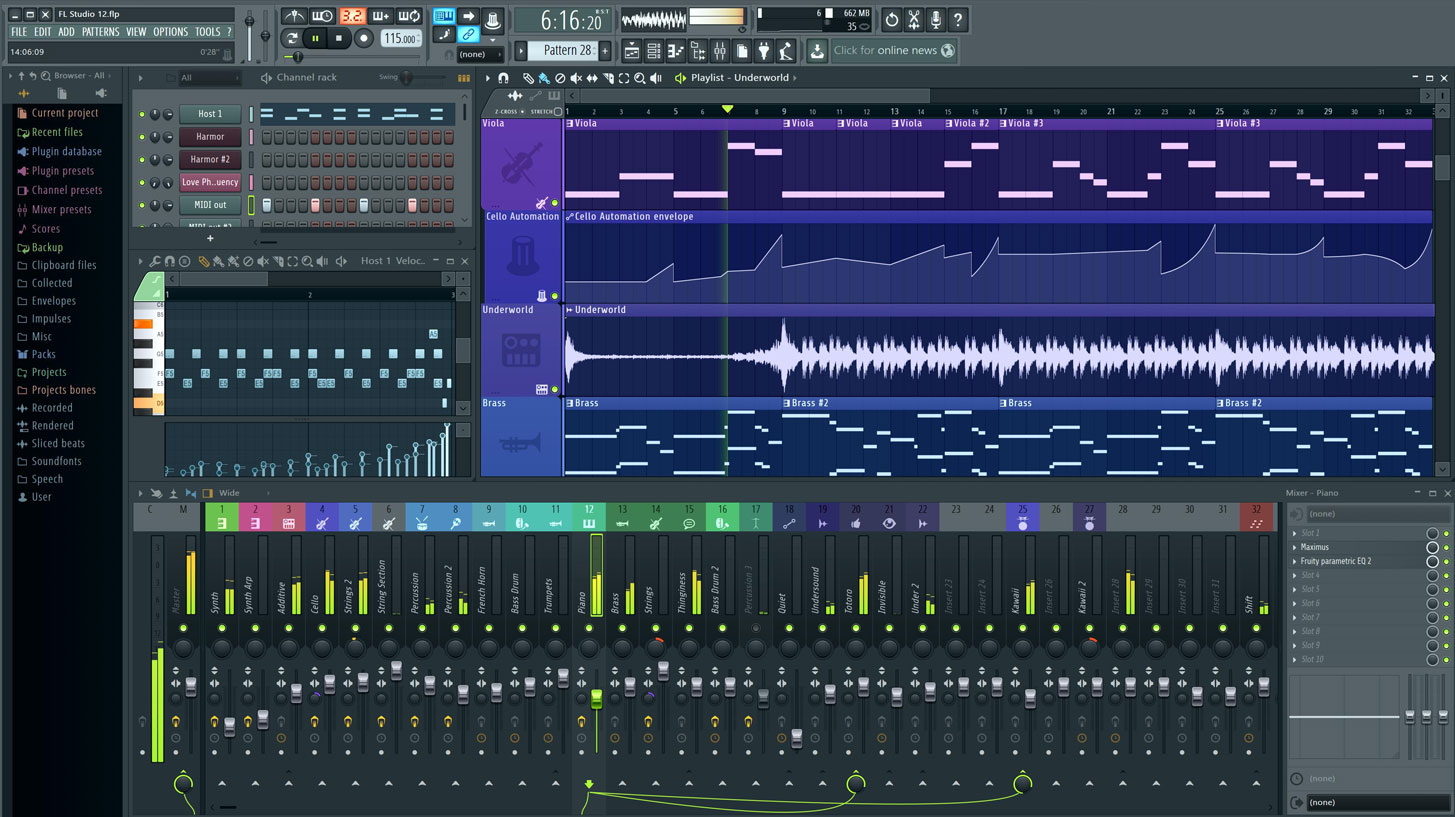 FL Studio is one of the flagship softwares of electronic music production and has incredible native plugins, a beautiful mixer, and a seamless piano roll.
This all comes together to make a clean GUI that is easy to use and learn.
And GUI isn't the only clean feature this DAW has to offer. We actually listed a few reasons why we personally love FL Studio...
Why We Love FL Studio:
The thing we love most about FL Studio is that they listen to their customers.
Each time there is a major update, you'll notice they include a lot of features that were suggested by the community. This lets users get the DAW they love and grow with it as they gradually get the features they want.
And when it's time for an upgrade, the good news is you won't even have to purchase them. In fact, you'll receive a lifetime of free updates.
Yup, you read that right. Once you buy it, you get all versions and updates for free! This is incredibly helpful for producers who can't afford to update every few years.
Another thing you won't have to worry about is purchasing any crazy plugins. The native plugins that come with FL Studio are insane. Seriously, they offer some of the best plugins in the game for DAW's if you ask us.
These plugins have beautiful designs, amazing sounds, and offer incredible workflow elements.
You'll also be able to access some of these plugins and so many other features of FL Studio on multiple devices.
This is because FL Studio has their own separate mobile application as well as full-software touch support.
The multi-touch support is a crazy leap into the future of production. Whether it's a separate tablet for your mixer, or having a drum pad programmed to your phone, this is the future of production technology.
Aside from it's great GUI, there are a few features we'd like to see in FL Studio that could improve its workflow and efficiency while producing.
What Could Improve:
FL Studio comes off as very scattered to most people. This may have to do with the fact you can't group tracks or organize the abundance of windows you have to constantly close out and open up.
You'll find yourself constantly trying to find the section you were just working on if you're not familiar with the program. This is a workflow issue that impacts production speed.
Another workflow drag could be that the browser can come off as cluttered. Sometimes you have to open 4-5 folders just to get to the folder you want.
The search bar isn't easily accessible or quick either. Adding a feature like color tagging or a quick search bar would shortcut many issues with searching for the right samples.
Another issue that could improve is warping.
Most DAW's can't compete with Ableton's warp feature, but we think FL Studio should step up their game to do so.
Warping is an amazing feature that allows you to select sections of your audio and adjust them to be on time with your track. This allows for perfect synchronization for all audio files.
Our Favorite Features:
Every two years, FL Studio seems to comes out with a new version of their software. It's been two years since their last big release so a new update may be coming soon. So, if you're looking to select a DAW, now may be a good time to give FL Studio a shot!
If you want to hear some features we'd love to see, check
 this!
Option 3: Logic Pro X
Apple has been an important factor to the front-end of the music industry from their iPods to iPhones and iPads. In fact, most producers actually make their music on Macs!
They've also held up in the back-end production side of music as well with their well-diversified DAW, Logic Pro X.
If there is one thing people can't take away from Apple, it's accessibility. This software is incredibly easy to use.
As it may serve as the higher tier version of their beginner DAW 'Garageband', it definitely makes its way up into the conversation of which DAW is best.
Here are a few of the reasons why we thinks so.
Why We Love Logic Pro X:
An incredibly new tool that can be used to a producer's advantage is the new MacBook Pro touch-bar. While other non-production software integrates touch-bar features, Logic Pro X is the only DAW to fully support it.
You
can
 use the touch-bar with other DAW's on Mac OS, but it's all done through custom mapping. There is no full support from other DAW manufacturers.
This leaves tons of room for creativity.
And the native plugins are meant for creativity. If there is one thing Logic Pro X has ahead of the game, it's the plugins that give you complete freedom to create.
To run alongside the plugins are some amazing features that allow you to further the sound you're trying to achieve.
Using features like Flex Time and Flex Pitch, you can perfect the sound you want. They also offer selection based processing which allows you to add FX to a certain selection of audio.
Not to mention, much like FL Studio, you can control some of these features from your mobile device. This makes controlling your DAW easy if you're performing live or in a studio session with others.
Logic Pro X is an amazing DAW, but just like most, there a few issues that we think could bring it up a notch.
What Could Improve:
At first, Logic Pro X may still have that Garageband feel to it.
While Logic Pro X is 10x more powerful, it could confuse beginners on which of the two to choose from.
Another big issue is that many features of this DAW require too many steps.
For example, quickly changing the pitch of an audio file is bit complicated to do. You have to add a plugin to be able to do this. In other DAW's like Ableton, you simply have a semitone button attached to every audio file in the project, making it easy to quickly change the pitch.
And while we're on the topic of additional plugins, it's also worth mentioning that you should be careful if you're FX heavy on your tracks.
Logic Pro X has a limit on how many FX you can insert into a single channel. So, all of our FX lovers, you should know that you can only drop 15 FX on a single channel before you run out.
Furthermore, because it's an Apple product, it's only compatible with mac OS.
Our Favorite Features:
Seamless Apple Device Integration
Logic Pro X is an excellent choice to learn music production and make a career with. It offers professional qualities across the board.
Option 4: Bitwig
Bitwig is an incredibly powerful DAW, and it looks familiar, right?
That's because Bitwig takes a lot of inspiration from Ableton with the 'Session View' styled panel. Minus a few panel placement changes, Bitwig and Ableton are very similar.
Aside from their similarities, here are few reasons we put Bitwig on this list...
What We Love About Bitwig:
To begin, the modular system format allows you to drag and connect different features, which results in ultimate customization.
So if you want to play with modules with other producers, no problem. They support Ableton Link technology. This allows you to sync more than one instance of Bitwig across the network.
This is a huge leap forward in the collaboration and production realm.
Another huge leap in music production is expressive MIDI support, and Bitwig does it best. With many tools to assist you in expression control, you won't have to worry about forgetting to adjust velocity, gain, panning, etc.
While still being a new DAW, Bitwig has some ways to go until it takes over the spots of the top-tier alternatives on this list.
Here are some features we had issues with.
What Could Improve:
One of the simple issues is the fact that using the spacebar to play your track while having a VST open isn't an option.
If you want to hear a preview of your track while making tweaks to your plugin, you have to click outside of the plugin and open the plugin backup. This can slow down production time a lot due to unnecessary clicking and going backwards.
And because it's still a new DAW, it still lacks common productions tools such as chaining, routing, etc. It can do these functions, but it's not as efficient as most popular DAW's.
One other tool Bitwig lacks are tutorials. This is going to be a popular issue for a good amount of unpopular DAW's. Less people using it means less demand for instructional videos.
This is a huge benefit of using more popular DAW's.
Our Favorite Features:
Opening Multiple Projects
Bitwig is perfect if you're looking for software that is fresh but still familiar.
It offers an abundance of sounds and native plugins to start you off. It's also growing at an extremely fast rate, so now may be the chance to jump on the train!
Option 5: Reason
Reason is the perfect transition from hardware to software.
This is mainly because it has a stylish hardware look that opens up room for creativity and inspiration. Each plugin they offer has its own look and shape to it.
Another hardware similarity is cable routing. Cable routing is optional, but it definitely is a benefit for the old school guys out there!
Here are few more benefits we found using Reason.
Why We Love Reason:
Straight from the start, the plugins are what attract us the most. Complete diversity and versatility is key to their plugins. Each one has their own purpose, and they execute it well.
Reason also offers cable routing which allows you to understand a bit of how real hardware works. They're connected automatically, but you have the option to manually connect them. This gives you a good amount of room for creativity.
And if you'd like to expand that creativity, you can use Reason next to any other DAW with their extension called ReWire. This allows you to open up Reason in another DAW or software that accepts plugins.
That way if you want to run one DAW for recording MIDI and use Reason for live sampling, you can do so.
Also, live sampling in Reason is fun and innovative. Reasons sample editor makes it easy to set-up start and end points in a sample, allowing you to seamlessly drop samples into your drum kit or external MIDI device.
But it's not all good when it comes to this DAW.
Reason has been around for some time now, but for the longest time it was just used to make instrumentals. Audio recording was added in recent years as a core feature.
Because of this, you had to have separate software to do record your audio. So it has some issues in that area, as well as some issues overall.
What Could Improve:
Other than the plugin GUI, it's still lacking in core features. It isn't as fluid as most DAW's and takes a bit of time to understand the functionality.
This could result in slower production time and bad workflow, two very important qualities in music production.
Because of this, it might take some time to make a song, unless you're a master at Reason.
This is from a compilation of issues from workflow issues, functionality, lack of tutorials, learning features, and working around non-existing features.
Our Favorite Features:
This DAW works perfectly for live production. You'll be able to utilize all of it's tools to create the perfect mix.
Option 6: Waveform
Waveform sits outside of the popular DAW realm, yet holds some of the most creative and wanted tools in production.
Not to mention, this DAW is absolutely beautiful and offers a huge selection of plugins that compete with third party plugins.
What We Love About Waveform:
The composition tools are everything we've ever wanted.
Much like 'Odesi', Waveform offers a chord builder that helps producers who don't know theory to learn and create new chord progressions. This is a huge tool to be built into a DAW.
Also, Waveform offers modular mixing racks which works like Logic Pro X.
This is a huge benefit for people who are organized. It's also good for those who like to see their plugins stacked and copy over plugins to other channels.
Another benefit to use this DAW is the pitch editing software that comes with it.
Have you heard of Melodyne? It's the leading pitch editor, and it comes with Waveform.
Well, it comes with an 'essential' version for this DAW specifically. They're really packing as many production tools and plugins into one DAW as much as they can.
They offer full plugins that compete with the top-dogs in the plugin industry. Doing this with native plugins is extremely hard to do. But somehow, they do it, and they do it well.
While Waveform isn't as popular as the previous DAW's we talked about, it is great. However, here are some the issues we had with the DAW.
What Could Improve:
This might be subjective, but it needs to be marketed more. This is an incredible DAW that almost no one talks about.
Meaning no tutorials, no collaborations, etc. This makes it hard for people to invest their time and money into it.
Another improvement they could make is adding effects easily from anywhere. If you're looking at it in the mixer window, it's fairly simple. But once you hop over to the arrangement, it's a bit more difficult to add effects. This could slow down production time and decrease your workflow.
Aside from workflow, you'll need some other features such as sample library to get started in music production. But Waveform seems to lack an impressive library.
Don't get us wrong, they're good, but but not good enough on a professional level, In fact, this DAW doesn't offer ready to use samples or instruments.
So be ready to use external samples.
Our Favorite Features:
Multi-Browser/Batch Selection
We can definitely see this DAW rising to be in the top tier selection someday soon. So, it may be a good idea to learn it early before it blows up.
Option 7: Studio One 3
Studio One 3 is made by the popular hardware company, Presonus. They have lead the game in production hardware for years.
You'd know this if you have any of their equipment, so it's not a bad idea to invest into their DAW.
Here are a few features we enjoyed.
What We Love About Studio One 3:
The start page makes organizing your projects easier than ever.
You can access projects, tutorials, audio settings, SoundCloud settings, etc. This makes it easy to manage your DAW when you start it up.
And much like Ableton, you don't have bounce back and forth between windows and closing windows. This is great news, because doing that can take up time and damage your workflow. Thankfully, everything in this DAW is adjusted to its own panels, making it accessible from any point.
To further improve workflow, Studio One 3 introduces a new way of arrangement. They offer the traditional arrangement board but add a 'list-type' arranger that allows you to label the sections of the song and reorganize it based off the labels.
Another amazing feature is the pre-record mode which allows you to capture any MIDI you've played on your keyboard. With this feature, you don't have to worry if you hit record or not. It's truly innovative and helpful when gathering your creative ideas.
As much as we loved this powerful DAW, we had a few issues with it. They were minimal issues, but we thought we'd list them to keep you informed.
What Could Improve:
This DAW isn't popular enough for a collection of tutorials to be created. But a few tutorials would be very helpful for the producers who do own this DAW.
With that being said, if you're just starting out in production, you might have to revert to basic knowledge of how production tools work to understand this DAW.
For example, after trying to add your own plugins, we realized it took a lot longer and was a bit more confusing compared to other DAW's.
Additionally, the browser and adding custom folders may seem very confusing. You create tabs instead of folders for custom samples, then you have folders in those tabs.
So, confusion and lack of tutorials seem to be a huge issue within this program, which would stray users away.
Our Favorite Features:
Comes Standard w/ Melodyne Essentials
Studio One 3 is an extremely powerful DAW with unlimited capabilities. If you're looking for a professional, clean, and well thought production software, this may be it.
Option 8: Cubase
Cubase has been around for a long time. The reason for this is because Steinberg is fresh and innovative.
Recently they've added cool new features to increase efficiency such as the 'Lower Zone', similar to Ableton's session view.
We still love Cubase, here are a few reasons why.
What We Love About Cubase:
Cubase 9 now offers cloud collaboration. This is huge for the production world where hard drives get filled in days.
This cloud feature allows you to find collaboration partners instantly and push your music to a true digital world. This is something we wish most DAW's would offer.
Another feature many other DAW's should include is the Cubase MixConsole feature.This feature allows you compare previous mixes to your current mix. It tracks all previous changes and improvements, so you can select which stage of your production you want to A/B it with.
Cubase has become less and less of an industry standard, and it could be because a few of the issues it has.
What Could Improve:
You're unable to scale or maximize the mixer. Actually, you can to a certain extent, but it becomes a pain to do so.
This could become an issue if you have a ton tracks and want to see more.
Another pain Cubase suffers is that there is surprisingly no RMS or LUFS metering. RMS meters determine the way your ears receive sound levels.
To beginners this may not be a huge deal, but as you learn more about mixing and mastering, these are both crucial tools to improve your overall track.
Also, a problem we had was that there are simply just too many windows. Much like FL Studio, there's a constant closing and opening of different windows to get where you need to be. This is huge drawback to workflow and production speed.
And finally, the biggest issue of them all. You need a physical usb dongle to use the DAW.
That's right. They're using decade old technology to activate and use the software. This is a major turn off for most producers with a laptop who don't want a USB sticking out the side at all times.
Our Favorite Features:
Option 9: MOTU Digital Performer 9
MOTU is widely known for its hardware much like the company, Presonus. They create a variety of production hardware for audio interfaces, video interfaces, MIDI interfaces, etc.
Just a few years ago, they released Digital Performer 9. This is the DAW that put them even more on the map and made its way into this list.
What We Love About Digital Performer 9:
MOTU included a
quality selection of synths, audio effects, and MIDI effects with this DAW. Offering a good amount of quality plugins, this DAW can easily inspire an artist with its included tools.
Another bonus to the DAW are consolidated windows. This feature makes it easy to make your way around. This means quicker learning, workflow, and accessibility, which, as we all know, are crucial roles in production.
And what about appearance? Notice the dark sleek look it has? Well you can customize that with a selection of themes.
This allows your brain to get a fresh look without having to stare at the same colors all day, every day. This can spark a huge amount of inspiration to producers creativity.
To boost your creativity, Digital Performer 9 also offers unlimited tracks, unlike Ableton's beginner packages which only support 16 audio and MIDI tracks.
Since Digital Performer 9 is still relatively new, it has some flaws. Here are a few that we found could use some improvement.
What Could Improve:
Similar to other DAW issues, it's not very popular. This means it has few tutorials, less instruction, and less compatibility.
If you're a professional, chances are you won't be switching over to this anytime soon. And if you're a beginner, it might take quite a bit of learning on your own.
And as much as most professionals enjoy third-party samples or samplers, there aren't any default sets of acoustic instruments with this DAW.
This means drums, bass, piano, etc. are not available with the DAW unless you use third-party plugins. Sometimes it's nice to go back to the basics and create something from native plugins.
While it does have some plugins available for audio effects, the GUI to some of their native plugins look outdated. GUI is extremely important, because you're looking at it for a long period of time. And as a result, it directly impacts your workflow.
Our Favorite Features:
Option 10: Pro Tools
Pro Tools for the longest time has been known as the industry standard, and it might stay there for a while.
This DAW offers an large amount of professional tools to make your track hit the charts. Pro Tools is widely known for its incredible ease of live recording and mastering.
Here are a few reasons why we love Pro Tools.
What We Love About Pro Tools:
Pro Tools makes it quick and easy to make changes across your whole project. Features like batch renaming make organization easier than ever.
Another feature that brings ease to the producer is cloud collaboration. You can quickly share and edit projects with anyone, anywhere.
This means you can visually see the changes made by someone you're collaborating with.
And if you like the sound you had more than the one you do have now, don't worry! They have revision history, so you can go back to your previous changes and even restore an older version of your work.
And to further the sound you're creating, Pro Tools offers some of the best stock plugins, which some engineers swear by.
While Pro Tools has it's list of benefits, it still has some room for improvement.
What Could Improve:
Pro Tools supports AAX plugins only. So if you have any VST only or AU only plugins, say goodbye.
There are some workarounds using third party plugins to run your third party plugins, but that takes too much time, effort, and complications to run.
Oh and speaking of complications, if you're a beginner producer this may hurt to read, but...
It retails at $999 for only one year of use. And if that isn't bad enough, they also have the HD perpetual license upgrade for $2,499. If you already have regular Pro Tools, that means it'll cost $1,899 to upgrade to HD.
The crazy part about all of this is that for being the most expensive DAW, it still lacks basic core functionality.
For example, it's extremely hard to write music with and offers poor MIDI functionality.
You'll need their top tier edition for it to be worth it at all. Otherwise, you're stuck missing out on all the 'worth-it' features.
Our Favorite Features:
Huge Selection of plugins
Conclusion
In the end, we all know choosing a DAW is subjective. Every artist connects with every DAW differently depending on the features they prioritize the most.
So we don't want to limit you to which ones are the best but instead want to offer a range of incredible DAWs that can further your music production.
Every DAW on the list is guaranteed to help you make the music you want and give you the creative freedom you need.
If you can't decide which one to go with, be sure to compare them side-by-side.
Also, consider these factors when choosing a DAW:
Workflow, for quicker and more efficient production skills.
Compatibility, to be able to use what everyone else uses.
Tutorials, so the learning curve is increased.
Plugins, to make the stock experience easier and more efficient.
Composition, so writing can flow easily without the stress of missing features.
Take your time with this decision, because it will determine how you learn music production.
Hopefully this article was helpful... and now we want to hear from you!
Are you using any of the music production software mentioned on this list?
Did we miss any other music production software?
Let us know below!
Do you want better Serum presets?
Download our free Ultimate Serum Library and improve your sound library today.
---