Best Reverb Plugins: 24 Of The Best In 2022!
With many different types of reverbs and plugins available, figuring out which are the best reverb plugins can be really time consuming.
First of all, you need to understand what type of reverb you're looking for. This is because the type of reverb you choose will determine the output of the entire sound.
Understanding the difference may be applicable to anyone and could help prepare you for future issues.
In the end, it breaks down into these two categories:
Convolution vs. Algorithmic.
Convolution Reverb
Convolution reverb uses what's called an Impulse Response (IR) to emulate the reverb. The impulse response portrays how a signal changes when it runs through an acoustic environment using pre-recorded samples of real room situations.

This results in a more natural and accurate sound, arguably making convolution reverbs the best reverb plugins. It does take more time to learn about and process on your computer, but many believe it's worth it.
Algorithmic Reverb
Standard algorithmic reverb doesn't work like convolution. It instead uses mathematical equations to accurately emulate the echoes and delays in a hypothetical room.

The benefit of using this is saving processing power on your computer. These are also easier to handle as a standalone as well as stock reverb in other plug-ins.

Since they're mathematically represented, they may not sound as accurate as convolution reverbs, but they still bring great quality to the table.

Because of this,we've included both Algorithmic and Convolution reverbs and have labeled them accordingly.

Alright, here are 23 of the best reverb plugins on the market:
Jump to the best free reverb VST plugins section!
Cymatics Space Reverb [50 USD]
With the modulation FX in Space, you can completely transform your reverb's sound. Included FX modes are Pitch, Chorus, Flanger, and Phaser.
Rather than adding the FX to the entire sound, it only affects the reverb signal. For example, you can make the reverb have a psychedelic effect by adding a phaser or flanger.
Combining these powerful FX with the built in distortion, EQ, and filter, there's limitless possibilities of how you can transform your reverb.
You can find out more about Cymatics Space Reverb HERE.
If you want to try it out for free first, there is a lite version you can find HERE.
FabFilter Pro-R [199 USD] 
Algorithmic
This is one of the best reverb plugins available and it's one of a kind. This is because of the revolutionary 'Decay Rate EQ' feature that allows you to add or remove frequencies/decay from the reverb.
This is a great tool for when you're mixing a track and it becomes noticeably muddy. The crazy part about this EQ is that it's parametric allows for complete customization and flexibility.
Because of this feature, their EQ allows much more room for creating your own amazing presets. Pro-R also offers a huge selection of its own diverse and well-made presets.
The EQ isn't the only feature that impressed us though.
A few other amazing features to set it apart from the rest are MIDI learn, A/B previewing, smooth parameter transitions, and really useful tips offered throughout the plugin.
All the features mentioned above make this a top-notch plugin that can be used across all genres.
For complete specifications and pricing,
visit here!
Liquid Sonic's Seventh Heaven Professional [69-299 USD]
Convolution/Algorithmic (Fusion-IR)




Liquid Sonic uses new technology creating a 'Fusion-IR,' which is a form of convolution, but it also uses algorithms to create more organic responses.

Because of this, this technology allows them to create sounds that can't be made with standard convolution.

The point of the Fusion-IR is to represent over 230+ different presets that imitate the sound of the popular reverb hardware rack—the Bricasti M7.

Recreating this classic piece of hardware resulted in an organic and beautiful reverb sound.

The Fusion-IR alone is a reason to test the waters with this plugin.

To check out the complete feature list and pricing, visit here!
Lexicon's PCM Native Reverb Bundle [599 USD]
Algorithmic
Lexicon offers a complete bundle of seven different reverbs with hundreds of corresponding presets that guarantee incredible quality.
As a huge part of their history and experience, Lexicon has been in the reverb game since the 1970's. Because of this, they have been able to perfect their craft over time to create some of the best reverb plugins in the market.
While it may have a vintage history, much like the new FabFilter reverb plugin we mentioned earlier, this model offers a graphical EQ for reflection adjustments when you need to fine-tune your reverb.
Because of their well-known quality, this reverb has been widely used in Hollywood films and radio production.
These qualities are represented by these reverb modules:
To read full specs and information, check it out
here!
Option 04: ValhallaRoom [50 USD]
Algorithmic
ValhallaRoom is widely known for it's simple yet clean output.
This is mostly due to the perfect selection of controls and knobs they have to offer.
In this version of Valhalla, they offer an early and late section. 'Early' meaning shorter bursts of reverb and decay, while 'late' is more controlled lengthy decay. The decay in this plugin can simply be controlled by three frequency bands.
Due to its simplicity, this allows for quick adjustments and getting your desired results much quicker.
You view more and purchase the plugin
here!
Option 05: Waves IR1 Convolution Reverb [299 USD]
Convolution
Ever want to record in some the world's best venues for their reverb? Now you can...sort of.
Waves gathered impulses from many of the greatest venues to allow you to capture the most perfect reverb you could imagine.
Altogether, this has resulted in over 100 incredibly accurate impulses, so don't let the old-school GUI fool you.
World class venue not enough?
No problem. You can also capture and create your own convolution reverbs!
With these features and others, such as a parametric EQ, it makes the IR1 one of the best reverb plugins and accurate convolution reverbs in the market.
You can view more and buy it
here!
Option 06: D16 Group Toraverb 2 [€69]
Algorithmic
The algorithm in this reverb plugin allows you to virtually create any style of reverb.
This is because Toraverb doesn't have set algorithms for reverb styles such as spring, room, hall, or plate. In fact, they created a whole new algorithm that allows for complete creativity.
Algorithms aside, this plugin has some other amazing features as well. For example, the fact that you get two parametric EQ's or custom modulated tails for realistic reactions is crazy!
Crazy also describes this vintage-vibe it's going for with the GUI. We're loving the way they created a hardware look to their plugin. It sets the mood.
You can check out more information on their site,
here!
Option 07: Softube TSAR-1 Reverb [249 USD]
Algorithmic
The TSAR-1 is an extremely powerful algorithmic stereo reverb with tons of character.
Whether you want this reverb to sound vintage or dreamy, it can provide you with the sound you need.
This is mostly because of the incredible selection of presets Softube provides within the plugin. However, creating your own hasn't been easier.
Because of its simple and favorable design, you can easily navigate around to quickly learn and begin making reverbs of your own.
This plugin is a must-have if you're into creating true stereo reverbs.
You can view details
here!
Option 08: Audio Ease Altiverb 7 [595 USD]
Convolution
Ever see a plugin with a bunch of images in it? The Altiverb 7 reverb plugin offers a large selection of impulses recorded from various halls and venues around the world.
To get a better understanding, they've included images of these venues. This allows you to see how big the room is, the style of the room, and the quality.
Because of this, it gives producers the chance to see how certain rooms affect certain sounds on a reverb response.
While containing the basics of controls, the image and impulse response qualities are a huge win for this plugin.
Check out more prices and information,
here!
Option 09: HOFA IQ-Reverb [150 USD]
Convolution
Labeled as the first vintage convolution reverb, HOFA really holds their ground with this amazing reverb plugin.
As a part of their vintage vibe, they offer a collection of controls such as positioner, modulation and vintage gating. This allows them to completely stick to the vintage output they're aiming for.
Like most reverb plugins, IQ-Reverb comes with three adjustable frequency ranges and a collection of pre-recorded impulses, allowing you to experience real life venues and samples.
Overall, this is one of the best reverb plugins if you're going for a vintage natural reverb sound.
You can view more information on this plugin,
here!
Option 10: Valhalla VintageVerb [50 USD]
Algorithmic
While it may not be a vintage convolution reverb like the previous option, this is the closest you'll get to vintage with an algorithmic reverb.
With their latest version of VintageVerb, they offer three different color modes. These include the options 1970's, 1980's and now!
This isn't the only reason Valhalla takes two spots on this list. This is also because of its high-quality and amazing algorithms that it has to offer.
Here are some of its algorithms:
Trust us when we say Valhalla is an incredible company that makes some of the best reverb plugins.
You can check out more,
here!
Option 11: EMT 140 Classic Plate Reverberator [199 USD]
Algorithmic
Looking for a straightforward plate reverb? We got you.
Not only does it represent an old-school plate reverb visually, but the quality it provides is accurate too.
With the selection of three different plates, it allows you to tone in on the different types of plates to apply to your mix.
This can result in fun and interesting experimenting when changing other functions of the plugin.
Some of those functions include stereo adjustment, modulation, EQ, and depth control.
Make sure to check this plugin out, it's definitely one of the best reverb plugins that offer a realistic plate sound!
You can check out more about this plugin,
here!
Option 12: Waves H-Reverb Hybrid [349 USD]
Convolution/Algorithmic (Fusion-IR) 
Waves is taking advantage of the new fusion/hybrid of the convolution and algorithmic reverbs.
Usually, convolution reverbs have less control and algorithmic reverbs have more control. But if you combine the two, this allows for ultimate control while still getting that accurate impulse sound.
Some of the controls you have access to are EQ, dynamic control, ADA analog modeling, and much more.
You can also access a collection of artist presets provided with the plugin. These are always great to have for quick-use and reference on how to create your own.
Oh, did we mention it has 5.1 surround control? Yeah. It does.
For full specs and information, check out their site
here!
Option 13: 2CAudio Aether Reverb [249 USD]
Algorithmic
Look at all of those features in the picture above…
As you can tell, this is another of the best reverb plugins because it allows for ultimate customization and sound design.
If you're not in the mood to create your own reverb sound, don't worry though. There are over 1,300+ different resources available with this plugin and even expansions to further the collection.
This will allow you to reverse engineer, learn more about reverb ,and see how the pro's get the clean reverb you're trying to achieve.
Because of all the features included, you'll never run out of ideas, and that's why we put this plugin on this list.
To see full specs and further information, head over
here!
Best Free Reverb VST Plugins: TAL-Reverb-2
Algorithmic
This option is by far our favorite free reverb plugin, and here's why...
TAL offers an extremely clean and lush reverb effect right out the gate. With simple controls such as high, mid and lows for EQ you'll be able to control the outcome of your reverb frequencies.
To follow these knobs, you have room size, pre-delay and the width. These are all basic controls, but that isn't the only thing we love about TAL-Reverb II.
The overall output of this reverb is surprisingly accurate and easily accessible. It's a very basic plugin with a lot of power behind it while keeping it light on your CPU.
Check out the site and download
here!
Option 15: Acon Digital's Reverb Solo
Algorithmic
Looking for something simple and straight to the point?
Then this might just be the reverb for you.
As you can see, this free reverb plugin is short and sweet, as it only offers a single knob to control the size and richness of the reverb. And the thing is, it still pushes out an incredible quality compared to some of the best reverb plugins.
Alongside the simple one knob, it also allows you to quickly A/B the difference, cycle through presets, and undo or go forward.
Towards the bottom, you'll find a dry to wet slider, which is very common for all reverbs. This slider simply controls the intensity of the reverb compared to the dry signal.
Don't let the simplicity of these plugin fool you though. We were very impressed!
Download the plugin
here!
Option 16: Variety Of Sounds epicVerb
Algorithmic
Variety Of Sounds puts out a few handfuls of effect plugins, and this one is our favorite by far.
EpicVerb is a free reverb plugin that has two different modes. These modes result in six different stereo early reflection models.
To control these models, you'll be provided with basic controls like time, damp, and pre-delay.
This is a very basic, yet powerful plugin. We definitely recommend this if you're looking for a high-quality free reverb plugin.
Download this plugin
here!
Option 17: Voxengo OldSkoolVerb
Algorithmic
Voxengo put out this OldSkoolVerb as a free plugin, but don't let that stray you away.
The quality of the algorithms in the OldSkoolVerb makes it one of the best reverb plugins. A lot like the Reverb Solo plugin, it's controlled with very basic features. A simple knob for pre-delay, space, time, and width allows you to control the reverb parameters for whichever mode you select.
It also provides the option of a simple three-band frequency EQ.
And to finish off the great simple features, it offers a dry mute button that allows you to hear just the reverb effects separately.
Download this plugin for free
here!
Option 18: KR-Reverb FS
Algorithmic
Simple and straight to the point, KR-Reverb FS is one of the easiest reverbs to use.
The features that make it extremely easy to use are the six simple sliders that control the early size, diffusion, late size, decay, listener position, and dry/wet.
Those features are some of the most important ones found in some of the best reverb plugins, and they cover it perfectly.
KR-Reverb is a great free reverb VST plugin.
Download the plugin
here!
Option 19: Mo'Verb
Algorithmic
Mo'Verb is another free plugin that with only basic controls can be compared with some of the best reverb plugins.
And you might be surprised to learn that some of the basic controls this free plugin has are ones that many paid plugins don't even have.
One of those basic controls is three separate EQ's. These EQ's control the early, late, and the wall. This allows complete control of your reverb with the most simple way to do it.
And to top it off, Mo'Verb offers both input and output meters. With these meters, you can easily track how much the reverb affects the volume of your track for proper mixing.
If you're looking for a great free plugin, this is a must-have!
Download the plugin
here!
Download thousands of free synth presets, samples, and more: Click Here
Option 20: Max For Live Convolution Reverb Pro [Ableton Only]
Convolution
This will make you want to switch to Ableton.
Natively, Ableton Live doesn't offer a convolution reverb. It offers a standard algorithmic reverb that does the job, but this convolution is where it's at.
Because it doesn't offer it natively, you'll have to download Max for Live. Max for Live is an instrument and effect builder for Ableton, but it also comes with its own modules already made.
One of these modules is their perfection of a plugin, Convolution Reverb Pro.
By looking at the picture above, you'll notice an abundance of crazy features, from parametric EQ, modes for the EQ, decay and sizing options, and even an IR selector that displays the audio file.
All these amazing features allow for complete toning in on your reverb to achieve the sound you want.
Price: Max for Live comes with Ableton Live 9 Suite
To purchase Ableton, head over
here!
Option 21: Fruity Convolver [FL Studio Only]
Convolution
We would be silly to not mention FL Studio's native plugin.
Fruity Convolver allows you to quickly load custom impulses in to add your own reverb, special effects, or other sounds to your track.
Because of the impulse section, they added many options to customize and stretch your sample to fit exactly how you want.
One of the many cool customizable features this plugin has to offer is the wet stereo separation. This allows you to control how wide the signal from the reverb is compared to the dry.
It's also worth mentioning, this plugin is running on the same engine as the second option on this list, Seventh Heaven.
So, if you're an FL Studio user, don't push this plugin aside.
Price: Comes with FL Studio
Visit more specs and information on the plugin
here!
Option 22: Logic Pro X's Space Designer [Logic X Only]
Convolution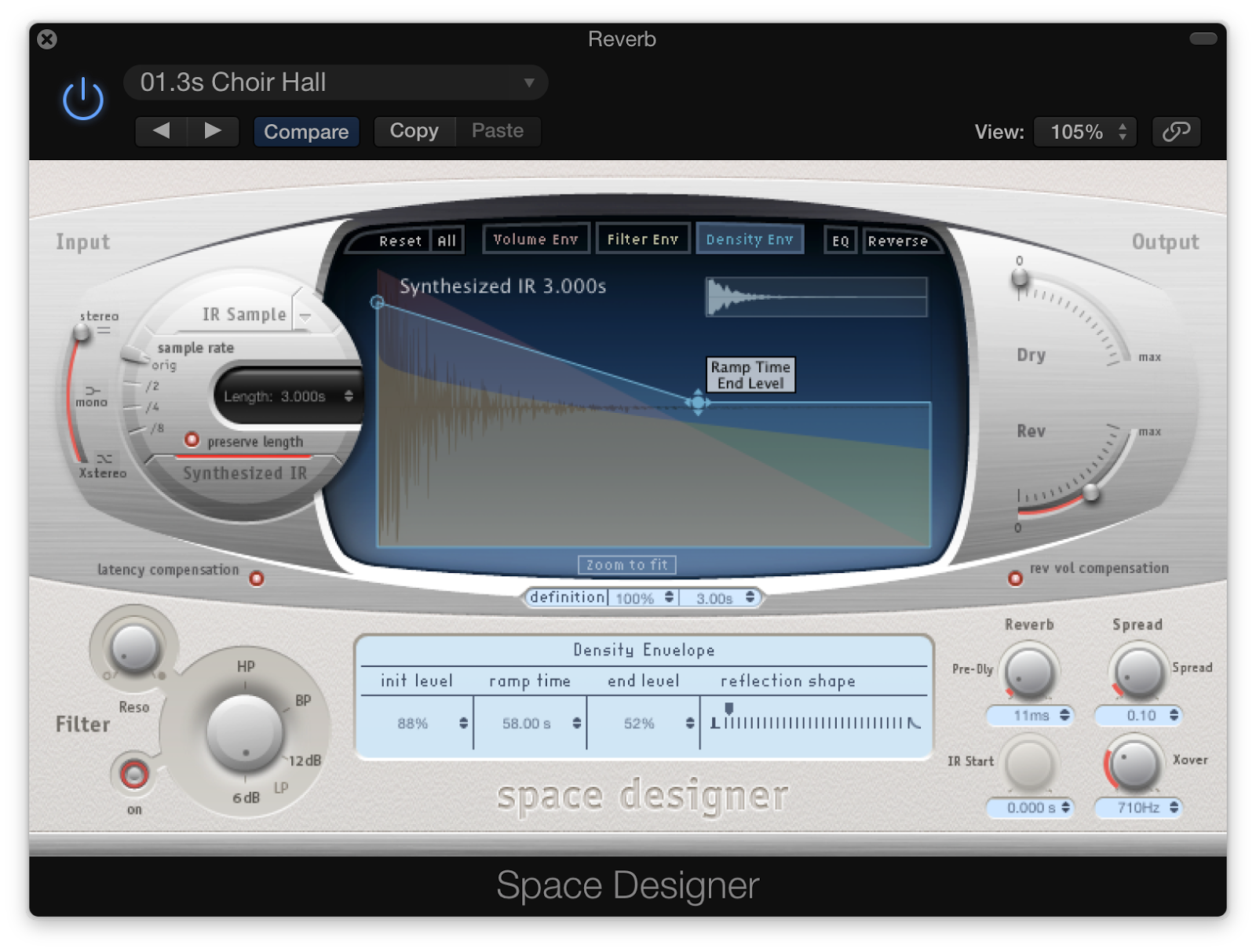 Space Designer is probably one of our favorite convolution reverbs as far as unique features stand.
This is mainly because of the option to choose between synthesized impulse responses and an actual sampled impulse response. Space Designer gives you the best of both worlds, because although it's still a convolution, it gives you  the option to use real audio samples that were made digitally, rather than an algorithm.
Another unique feature of Space Designer is the IR Sample section, which lets you change just about anything. Some of the changes that can be made are the stereo separation, length, sample rate, and density.
If you're using Logic Pro X, try using this before you search for something. Sometimes the gold is right in front of you.
To read a full review of Space Designer, check
this
 out!
Option 23: ANWIDA Soft DX Reverb Light
Algorithmic
DX Reverb Light is a free quick, easy-to-use algorithmic reverb that allows creating small room and large room emulations.
While it may seem too simple, it definitely makes up for that  in quality.
A lot of the quality is offered in a collection of presets to work with. These presets can push the reverb from mono>stereo or stereo>stereo.
Check out this free plugin to see what we mean by the quality!
Download it
here!
Conclusion
In the end, choose the reverb that fits you best, free or paid. Some people like the way their free reverb sounds more than the higher-end options.
This is mostly because every producer has different styles or sounds they're trying to achieve.
Due to this, we created this large list to put some of the most diverse reverbs on display.
Here's a list with some of the best reverbs plugins:
Liquid Sonic's Seventh Heaven (Professional)
Lexicon's PCM Native Reverb Bundle
Acon Digital's Reverb Solo
Waves IR1 Convolution Reverb
Max For Live Convolution Reverb Pro (Ableton Only)
EMT 140 Classic Plate Reverberator
Logic Pro X's Space Designer
Variety Of Sounds epicVerb
ANWIDA Soft DX Reverb Light
They each have special features that have make them some of the best ones to choose from.
We hope this list helped you decide in which reverb to choose!
Which do you think are the best reverb plugins?
Let everyone else know in the comment section below!
Do you want better Serum presets?
Download our free Ultimate Serum Library and improve your sound library today.
---