The Best Kontakt Libraries in 2017 - 131 Free & Premium Downloads
In 2017, finding the best Kontakt Libraries is no easy feat...
Kontakt is one of the greatest tools in a producer's arsenal for getting rich, organic sounds.
But with SO many companies and Kontakt libraries, it's difficult to figure out which ones are the best.
We took the time to test and compile some of our favorite Kontakt banks, made by some stellar companies.
If you're looking for some of the best Kontakt libraries out there, then you've come to the right place!
We've put together a list organized by manufacturer with some of their best libraries:

This Kontakt library was designed by composers, for composers, with direct feedback from the film music community during its development. The result is a string library that is easy to use, composer-friendly, with unparalleled recording quality.
CineStrings SOLO is a deeply sampled solo strings virtual instrument recorded at the world famous MGM Scoring Stage at Sony Pictures Studios in Los Angeles. The patches contain some of the most realistic True Legato ever created for soloistic string writing.
A comprehensive collection of tempo-locked runs, scales and rips recorded at the MGM Scoring Stage at Sony Pictures Studios in Los Angeles.
Tina Guo's distinctly emotive acoustic cello captured as a solo legato patch utilizing a brand new recording and programming technique - introducing Seamless Legato.
The Viola da Gamba is a 6-stringed bowed and fretted instrument that first appeared in Spain in the mid to late 15th century and was most popular in the Renaissance and Baroque periods.
CineHarps is a collection of deeply sampled orchestral harps that's easy to use and is loaded with techniques and features that will make this a classic in any composer's template.
CineWinds CORE Library is a next-generation orchestral woodwinds library recorded in the legendary SONY Pictures Scoring Stage in Los Angeles.
CineWinds PRO expansion fills out the remainder of the orchestral woodwind section, and also offers an eclectic choice of ethnic, Renaissance, and period wind instruments most often used in film scoring.
Hollywoodwinds is cinesamples' award-winning orchestral woodwind library developed exclusively for Kontakt. Featuring wonderfully organic recordings, and groundbreaking programming, HWW is quickly becoming the leading woodwind solution for composers around the world.
The CineBrass Core Library is Cinesamples' orchestral brass sample library for Kontakt, recorded at the world famous SONY Pictures Scoring Stage in Los Angeles, and mixed by veteran legend Dennis Sands.
Pro horn players often pull out this instrument for delicate higher passages and it's great for soaring solos. Like CineBrass Core, CineBrass Descant Horn was recorded at the MGM Scoring Stage in Los Angeles.
CineBrass Twelve Horn Ensemble is an improved version of the classic Twelve Horn patches from the CineBrass PRO library.
Epic Virtual Choirs is Cinesamples' virtual choir instrument for professionals, containing a full epic choir, boys choir, soloists, an innovative phrase builder and the industry's most realistic and powerful true legato engine.
Spitfire Symphonic Strings Evolutions marries this concept with the majesty of a symphony-sized string section recorded at the legendary Air Studios. As a layering tool it can bring static arrangements to life with elegant, modern and progressive orchestral techniques, plus solve one of the harder aspects of media composition.
Recorded at the studio that has played host to scores from blockbusters that have grossed billions of dollars, with the same players playing the same instruments.
A definitive mega-anthology of tools to create blockbuster symphonic works for TV, film, games and radio in a single and encyclopaedic core-level professional product.
Small can be more beautiful. 16 of the finest string players, playing the finest instruments via the finest signal path in The Hall at Air Studios, London. A super deep-sampled encyclopedia of string articulations and techniques.
Three leading, star players on the London session scene lend their personalities to this essential and definitive selection of solo string samples recorded in the hall at Air Studios by award winning engineer Jake Jackson.
Centred around a sophisticated virtual instrument recorded at 3 dynamic layers and 3 bowing positions with a host of "artisan" articulations, and many additional techniques.
In his fourth collaboration with Spitfire Audio, the legendary trailblazer Hans Zimmer presents the ultimate piano library recorded in the Hall at Air Studios over many weeks.
At last a contextual piano that actually sounds like it's in the same room as your orchestra. Recorded in the Hall at Air Studios, this piano is designed to sit in with our entire orchestral range.
The finest maintained Electric Piano, Stage Piano, Electric Keyboard Bass & Electric Clavichord, by the finest of players via a unique, classic and unbeatable signal path by an engineering great.
Get access to over 10,000 sounds plus hundreds of courses & tutorials - Click Here

Imagine having instant access to the true authentic sound of the iconic TR-909, 808, 606, 707, CR-78, Linndrum, Drumtraks, Drumulator, OB-DX and many others. Imagine a world where this dream becomes reality.
DRM Drums serves up over 380 drum samples from a vintage Vermona DRM drum machine. All samples have been lovingly recorded through an API pre-amp with every sound boasting eight round robin variations and four accent layers.
The KPR-77 was originally manufactured by Korg in the early 1980's and was advertised as a cheaper alternative to Roland's successful TR-606 drum machine. Surprisingly this quirky little analogue machine is capable of producing quite powerful drum sounds, we are especially fond of the toms, snares and claps.

Analog Strings is a virtual instrument for the modern music maker. It enables you to craft and perform string sounds that are insanely unique and cutting-edge, yet beautiful and creative.
This Output Kontakt Library is among the best. Featuring tempo syncing FX, stutters, delays, pads, loops, saturation, macros, motion, flux and more. Output provides the starting point, the rest is up to you.

Substance is a deeply produced bass engine combining heavily processed electric and acoustic basses, full live brass sections, huge polysynths, the dirtiest analog synths, insane sound design and much more into single patches.
Movement is an exciting FX plugin that adds powerful rhythms to any input in real-time. Built equally for the studio or stage, use the engine to breathe life into any track or live performance.
REV is not a "reverse" button like the one on your DAW or sampler. It's a world of sound design for producers, composers and musicians based on reverse elements.

Damage gives you 30 GB of drama fusing industrial sounds and orchestral drums into a devastating electro-acoustic barrage.
An extraordinary vocal instrument has to start with extraordinary vocal performances, and that's exactly what Vocalise 2 by Heavyocity has captured in Vocalise 2.
Heavyocity had one goal in mind when they set out to create NOVO: "make strings new again."
The sound of the DM-307 comes from loops, kits, effects, and multis all powered by Kontakt. All loops are designed for seamless layering and maximum flexibility, and are loosely classified into 5 different styles.

Apocalypse Percussion Ensemble is an industry-leading epic percussion juggernaut. This massive drum & cymbal collection weighs in at nearly 25 GB with over 25,000 samples, with astounding sonic power, detail and playability.
GRANADA 49 faithfully captures a rare 1970's-era portable analog synthesizer by the now defunct Italian synth-maker Fesma. The instrument's classic wood-accented body echoes the popular aesthetics of the 1970s and its fat, warm analog sound cuts through the mix.
The Soundiron Bontastic Vintage Organ instrument captures with perfect clarity the retro sound of the rare Bontempi B4 Electronic Table Organ. The instrument's vivid orange plastic exterior echoes the popular aesthetics of the 1970s and early 1980s during which time the organ was produced.

Electro City generates grooves that define the future of electronic music and redefine how rhythmic beats and melodic loops are produced.
Developed for the industry-standard Native Instruments Kontakt sampler, Trailer Xpressions contains over a 1,000 sampled sounds, each of which has been meticulously programmed into 26 instruments and organized within ready-made construction kits making it easy to find that perfect sound for your next trailer or cinematic music track.
Arpology Sample Logic's most groundbreaking achievement to date; the world's first virtual instrument and MIDI effect dedicated entirely to arpeggiated/sequenced instruments.
Bloq is the debut virtual instrument from Sample Magic. Featuring over 3GB of sample data presented in carefully collated and custom presets, Bloq has been made using some of the most iconic and revered synthesisers and drum machines of all time.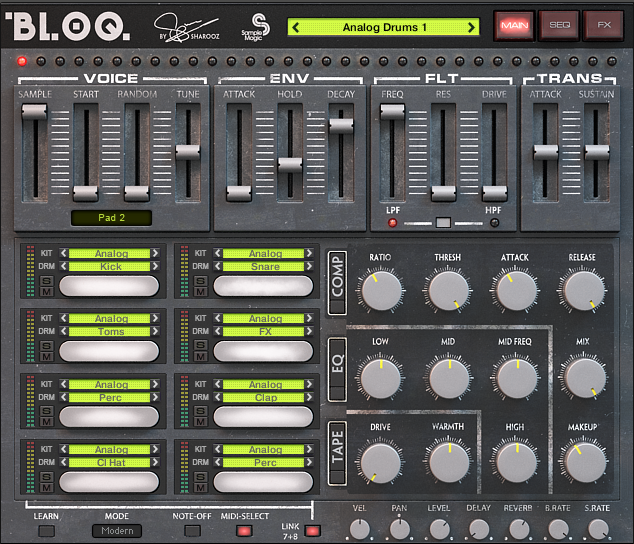 Take a trip back to video game nostalgia with an epic 200 drum-shots and chord stabs in custom Kontakt Instruments
Funk Soul Horns 2 takes over where FSH1 left off by adding more musical styles, including Philly Soul, Memphis Soul, Detroit Soul, and Soul Jazz, choosing the size and make-up of each section to match each style.

Kinetic Toys offers dynamic playback of 200+ recordings of vintage children's toys, tools, and treats, each with a custom synthesized layer to create playable tones.
The second edition in the session guitarist series, Strummed Acoustic 2, expands your sound palette with two carefully selected vintage acoustic guitars, an extensive library of patterns and chords, plus real-time performance control.

Una Corda faithfully captures the  special sound signature of a custom-made contemporary piano with one string per key – originally created by David Klavins in close collaboration with composer Nils Frahm.
An indispensable scoring tool for big-screen soundtracks, game scores, sound installations, or live theater productions, Thrill's all-original content features orchestral recordings and hybrid sound-design based on ambiences, custom-built instruments, voices, pitched metal, synthesized drones, and more.
Get perfect custom tone with a complete guitar studio in your computer. Stunning amps and effects – exquisitely modeled in a powerful and intuitive virtual effects rack.
Slow is a library of ambient pads and soundscapes. It features a finely picked selection of sounds that can be blended and morphed with 2 layers.
Colourform is a Kontakt 5 sample library of picturesque organic sounds. The library explores the link between sound and colour offering a unique inspirational experience.
The Chordophones is library of plucked and hammered strings. It focuses on capturing the atmosphere and sustain of steel strings when resonated.
Phoenix is a powerful tool for creating sustains with movement and character. The samples are from synthetic and granulised sources, yet they are rich and organic sounding.
Dual Music box is a library of 2 music boxes and other sounds. These 3 layers can be mixed together to make a wide variety of music box timbres.
Terracotta is a multisampled flowerpot instrument and organic sound design tool for Kontakt 5. Quite surprisingly, terracotta flowerpots actually have a very pleasing bell-like sound.

36 Renaissance and Medieval instruments sampled in a warm hall.
Every soundset in Aurora provides some of the versatility of a classical synthesizer combined with the quality of sampled wave sets. Carefully sampled acoustic materials like timpani, bells, self-made instruments, handmade percussions, custom chains of sound design tools to realize soundscapes, drones and pads from acoustic and synthesized sources.
The Solo Oboe features more than two octaves and a half range, 3 dynamic layers for sustained articulations, 3 true legato articulations, and 4 Round Robins for staccato.
The idea of this instrument is to take something beautiful and transform into something else with the proper tools, keeping the maximum sound quality possible. It implements many under the hood adjustments like per-grain custom windows, anti-phasing techniques and synchronized time/rate/densities between grains.
The rush is a collection of 319 sound rushed files that were generated from 30 lovingly curated sources and carefully rendered in Sound Particles.
Clink is a clicky little micro library of clicks, latches and whirrs generated from a little found Herschede Starville clock mechanism.
ORION is a fully featured drum set and step sequencer built for Native Instruments Kontakt.
This antique accordion was rescued from a local antique shop. It has a hole in the bellows that creates a distinct wheezing sound, and it is loaded up with strange squeaks, pops and paper textures.
This is a fretless German harp zither, which differs in quality significantly from concert zithers, which have several strings with fretted necks beneath them. This version was manufactured by Friederich Menzenhauer, the father of the zither in the US.
A sampled set of bass pedals from a Hammond Organ with the option to choose between a Ribbon microphone and/or a Dynamic microphone.
A deeply sampled Celtic Harp instrument with 6 velocity layers and 6 round robins.
A performachord instrument with full control over an impulse response reverb with over 700 sounds.
Darker Tones is that collection of samples you've been looking for, which includes Kalimbas, Mbiras and other unusual pieces of percussion. Get ready to instantly add something new to your mix.
Ambient Telecaster is Sonic Zest's latest ambient guitar library, featuring a host of amazing patches ready to fit straight into your latest composition.
A wide range of glass, metal and wooden percussion sounds recorded in a studio. Armed with five round robins, the whole collection of sounds was ran through an arpeggiator – enabling you to readily produce the grooves you're after.
Tranzitone combines the sounds and features of a transistor organ, a string machine, and an analogue-style synthesizer. Twenty-nine simultaneous registers, including five dedicated bass registers, allow you to build up complex sound textures unlike anything else around.
The Klavitron is a Swedish rare valve organ manufactured in the 60-ties. It has its own sound character mostly because of its percussive settings giving a plucky sound to the solo manual.
Precision sound "Russian Balalaika" sample library is a very detailed sampled Balalaika. The recording was made in the "Usachevsky" studio at the University of Utah, and the instrument was played by Igor Iachimciuc.
The sound of the Kantele is unique and useful in many music genres, both for strumming and arpeggio style playing and melodies.
A Rhodes and Wurly. Includes controls for effects like phaser, overdrive, and reverb.
Lead Guitar One combines a rock lead guitar multisampled instrument with virtual effects pedals that control Kontakt's excellent built-in effects.
Folk instrument popular in Celtic lands as well as Appalachia.

A modular style synth with 10 waveforms and, white noise, pink noise and over 500 presets.
A synthesizer inspired by a legendary and very special 4 voice Japanese analogue synthesizer from the late 1970's.
A simple sample set from the Hohner Pianet T electric piano, but with a twist.

Amp up this direct-input sampled guitar and let fly with metal mayhem!
How often have you been composing and thought to yourself: "Self, this track requires some weird ambient stuff to make it complete." Six times, maybe? Perhaps even more than that. This painful realization can be avoided by possessing the proper tool with which to atmospherize your music.
Even the most mundane objects can add a unique tonal color to your compositions.   Those same objects, when manipulated digitally, explode into a whole new set of tones and textures. Peculiar Percussion is a collection of random objects with untapped musical potential.

Two wine glasses were used in the making of this library - a big one and a small one.
Nervous vibrato and improper bending mixed with some detuning. The result? A drunken sounding, fiery stringed experimental instrument.
Seven basic tones on a not so fairly crafted instrument while being hit with a wooden stick.

Organic synth pad textures, syncopated rhythms patterns and melodic motifs, that's just the start of what you can create with PADS with NKS integration.
uBeat lets you drop beats in a flash, all while maintaining pristine control over sounds and effects, bringing together workflows from the old and new.
Easy to use percussion arpeggiator. Endless rhythmic patterns.

This sampler is the fastest, most powerful drum sampler on the market. Built from the ground up to be optimized for speed and performance so you can spend less time waiting and more time creating.
Fully automatable kick drum building system for crafting unique drum sounds with custom crafted presets built for genre defining productions.
This library never lets up and always keeps you in the thick of it with its unforgiving sound design and the wide array of electric guitar patches, making it perfect for big, epic cinematic scores.
Bryan Leach's main idea behind Hank Drum was to capture the natural relaxing and meditative tones of this absolutely gorgeous sounding instrument. As a composer, he wanted it to be playable with a multi-sampled approach, along with a handful of varying techniques.
Originally intended as a private sample library for a group of trailer composers, the two instruments in this series combine the very best of the worlds of raw/organic recordings and post-production/sound design.
Haunting and whimsical atmospheres, curious objects and materials, volatile and beautiful environmental phenomena, or even mysterious and graceful beasts, all of these surroundings offer not only a new world to see, but a new world to hear as well.

Rhythmic Revolution is an advanced instrument capable of creating an eternity of new and inspiring material. It can literally randomize something new in eternity. Whether you want a Birdman like drum groove or the grittiest of sound designs.
Hybrid Tools NEO gives you the ultimate production tool for high-end cinematic music – combined with the latest trends in EDM sound design. NEO is based around our custom 3D mini-browser that allows you to access all sounds immediately.
8Dio EDM Edge Groove Edition Vol. 2 for Kontakt, Maschine and Sample-Pack is a massive collection of explosive and knife-cutting EDM samples. Produced by Top 10 Beatport DJ's and with a crazy amount of production-ready Kicks, Snares, Hats, Basses Synths, Lead Synths, FX Synths, Risers, and Growl Synths.

A unique sound design tool to create a huge range of distinctive cinematic sounds, otherworldly atmospheres, mesmeric drones, emotive synths, noisey pads, organic keys, impressive cinematic effects, transitional elements, impacts and melodic motifs, each with it's own character and concept behind the creation handcrafted with passion, innovation and technology.
Loop based sampler instrument for NI Kontakt also available on WAV, Apple Loops, ACID and REX formats. Paths is the perfect collection for crafting dramatic Electronica and Neo-ambient Cinematic styles. If you live to emote in slow tempos, this is the collection for you.
This stunning instrument is packed full of analogue modelled effects, powerful LFO's, envelopes and an advanced arpeggiator. It is able to create a huge range of sounds, from filthy basses with extremely low frequencies, distorted leads, mellow saturated melodic poly-synths and everything in between.
Best Free Kontakt Libraries
NS Drum is a well-crafted and high quality sounding acoustic kit. Not only does the library sound great, but if offers the ability to really customize your drum sound with a nice set of sensible parameters.
Nathan Sheeran sampled eight drum kits, 7 acoustic and 1 house, and kindly shared them. These are great for instant gratification as they load up really quickly and sound good. They are about 3 to 5 MB's each and so are great for low RAM situations.
Jam packed full of Electronic Grooves, Arpeggiated Sequences, Manipulated Synths, Cinematic FX, Unique and Expressive Performance Patches, this beauty has a whole world of surprises waiting to be unleashed!
Do you want to learn music production faster than ever? - Click Here
Jonathan's Glockenspiel is a beautiful 1 and a half octave glockenspiel sample library for Kontakt.
Glitch grooves, ambient sounds, IDM sequences, minimal loops and percussions.
The free Amore Grand Piano for NI Kontakt 3+
662 Mb fully sampled harp library.
Free Djembe Kontakt Instrument.
Includes: Mega Drum Machines Collection, Acoustic Bass, Pianowa, and more.
Sample Modern's Baby Grand piano is a live recorded and one layered Kontakt instrument for the ones who demands high quality, lightness and basic interface.
Some sax instruments from public domain and creative commons samples.
Includes: Granular Bottles, Harmonica, Mini Sax, Music Box, Ocarina and more.
A free Choir Kontakt Instrument containing multiple choirs and vowels.
Includes: Marble, Ensemblia, Fabrique, Gecko, and more.
Includes: Tabla Mouth Percussion, Double Sided Hand Drum, and more.
Includes: Rhythm Assembler, Spookomatic, Chop Shop, Bassmeister and more.
Includes: Table Drum, PianoBoom, Claps'n'Stomps, Tin Can, MiniNaal, and more.
Includes: Solemn, Sax Appeal, Clean Guitar, Hang Drum and more.
Includes: Zither, Banjo, Toy Piano And more.
Includes: Stroh Violin and Cinematic Synthetic Drums.
Includes: Abstrakt Vol 1, Godfather Strings, Nintendo Gameboy Sounds and more.
Includes: Acoustic Guitars, Garage Vinyl, Yamaha Kit and more.
127 Cinematic Kontakt Patches.
Includes: Sax on the Beach, Modular Ascension, Alien Beatscapes and more.
31 Free Kontakt Instruments.
Shortnoise is a unique and inspiring electronic sample library with a huge 6GB of content and over 300 Kontakt instruments to choose from.
The demo version of the world's most powerful pulse engine.
What is it? Simply a flute.
Includes: Kazoos, Music Boxes, Speak & Spell and more.
A small USSR piano with a unique sound that resembles a xylophone.
Victorian Music Box is a multisampled antique music box for Kontakt 5.
Percussion sound effects on the violin.
Pro Tone Element Series
Royalty-free, top-notch sounds, all for your arsenal, in the popular NI Kontakt format. Don't miss it!
Binary Music
[Yamaha TX18X Synth]
[Ensoniq SQ80 Synth]
Deep and evolving sounds for ambient soundtracks, chillout, IDM, glitch and more.
Leaky, creaky, and squeaky is the best way to describe this antique concertina. Still, this concertina's charming sound is still worthy of being heard and enjoyed.
Conclusion
If you know about any other incredible companies and Kontakt libraries that we might have missed, and that you believe should be included in this list,
let us know in the comments
 - we'll keep updating this list!
Also if you loved this blog about the best free and premium Kontakt Libraries, go check out our Ultimate List Of The Best VST/AU Plugins & Synths for 2017!
Do you want to get a jump start in Ableton Live?
Download our free Ableton Starter Pack and get level up your production today!
(2 Ableton Project Files & 300 Drum Samples + Loops)
---