Ableton Live 10: First Look And What's New!
The long wait is finally coming to an end because Ableton Live 10 is set be released in the first quarter of 2018!
Ableton has finally revealed some of the new features that'll be available in its next major update, and let me tell you…
It looks amazing!
It doesn't matter if you're a beginner or experienced producer, you'll be able to take full advantage of its workflow improvements, new sounds, new devices, and creative tools.
Be sure to check out this 2 minute overview by Ableton, but we'll do a slightly more in-depth review in this article.
Without further ado, let's dive right into it!
Ableton Live 10 - New Audio Effects & Devices
Echo
Echo is a modulation delay capable of recreating multiple styles of sounds, from vintage tape saturation to ultra clean digital delays - and everything in between!
This exciting new device also includes a distortion unit, a reverb, stereo width control, a ducking compressor, a gate and many more parameters that will allow you almost ENDLESS delay modulation capabilities.
Pedal
Pedal, like its name implies, is a guitar pedal distortion effect with separate circuit-level models of overdrive, distortion and fuzz guitar pedals.
This audio effect will put the character of analog stomp boxes in the palm of your hands!
But it doesn't end there!
Just because it's a guitar pedal emulation it doesn't mean you can't use it anywhere else.
This audio effect can be used just as you would use Ableton's Saturator, and Pedal excels at warming up vocals, live instruments, driving synth sounds, or completely smashing drums.
Drum Buss
We're almost certain that Drum Buss will become a personal favorite for many producers when it comes out.
Drum Buss is essentially a unique audio effect modeled after analog style drum processors, designed to change the character of a group of drums.
It will glue them together and you'll be able to add a wide variety of effects — subtly or completely distort them — since it combines the most used audio processing tools for drums into a single unit.
Wavetable
As its name implies, Wavetable is Ableton's brand new wavetable synthesizer.
Sounds familiar?
Of course it does - Serum and Massive are wavetable synthesizers and Ableton is now joining the competition.
You'll be able to morph sounds using wavetables derived from analog synths, a range of other instruments, and sounds.
We can't wait until we're able to fully experiment with this plugin and see how far it can go!
Ableton Live 10 - Improved Audio Effects
EQ8
One of the most underrated EQ plugins just got a huge power up.
Ableton's EQ8 is now capable of going down as low as 10 Hz, this will allow you to have an even cleaner low end!
Utility
Utility, arguably one of the most used stock plugins inside of Ableton will get a power up as well.
You'll now be able to go down to -inf dB instead of -35 dB, no more need to double this audio effect to get absolute silence!
The Utility audio effect now also has dedicated "Mono" and "Bass Mono" switches, something incredibly simple, but so useful.
Ableton Live 10 - User Interface, Creative, & Workflow Improvements
Revamped Interface
Ableton didn't make any major changes to its user interface, but some subtle tweaks in their font style make it a way cleaner and enjoyable experience.
Have a look!
Improved Graphics
Ableton's brand new graphics are incredibly good looking, and primarily improve visibility of MIDI clips inside the arrangement view.
It's simple, but this can decrease eye fatigue in long studio sessions!
Browser Collections
Ableton 10 will allow you to color code your collections so you can organize your most used devices, plugins, and samples.
By doing this you should be able to access them quicker!
Groups Within Groups
What else can we really say?
FINALLY!
Multiple MIDI Clip Editing
You can now create drums, basses, chords, and melodies in tandem with each other.
This allows you to work with multiple MIDI clips in a single view, in both the Arrangement and Session view.
Absolute control of the musical relationship between each element of your song!
Note Chasing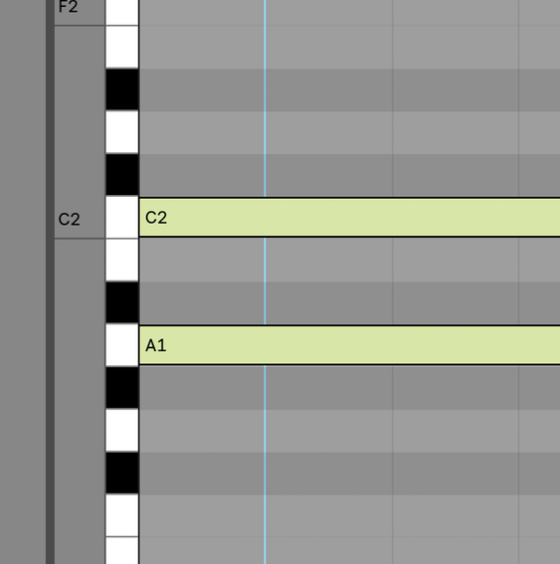 Ableton 10 will allow you to start playback even if the MIDI clip is at the middle, this way you won't have to start the clip at the beginning to hear a really long sustained pad, for example.
Capture
This is a game changing feature.
Have you ever had a random burst of inspiration and just lost it while setting up your gear to record?
Well, just arm a MIDI track and start jamming out, Capture will record all of your ideas without having to hit the record button — as magical as it sounds.
Hit the "Capture" button afterwards and Ableton will match your tempo and timing, starting your melody or groove in a perfect loop.
Input/Output Renaming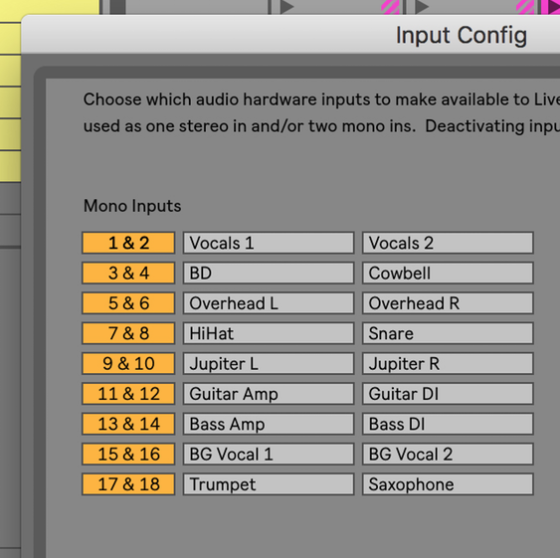 With this brand new feature you'll be able to rename the different inputs and outputs so you can match instruments and hardware in your studio!
Moving Clips With Arrow Keys
You'll now be able to move clips inside of Ableton with the left and right arrow keys in your keyboard!
Alternatively, by holding CMD on Mac, or Alt on Windows, you'll be able to toggle grid snapping.
With these 2 brand new features, workflow will be slightly improved!
Reverse Shortcut Key
Time saving shortcuts are seriously the best, you shouldn't underestimate them.
If you manage to decrease the timing of your actions by around 1 second, your studio sessions will be quicker and flow better.
All of this also decrease the chances of you losing any possible ideas you have while doing technical edits.
In Ableton 10, simply hit "R" to reverse an audio clip!
Loop Brace Toggle
You can never have enough workflow upgrades.
You can now hit CMD + M on Mac, or alternatively CTRL + M on PC to toggle the Edit menu's Loop Selection.
MIDI Clip Creation
Selecting a region and hitting CMD + M / CTRL + M to create a MIDI clip isn't bad at all, but if there's room for improvement always go for it.
You can now select a region and double click to create a MIDI clip!
It's all about saving seconds during your studio session.
Partially Deactivating Clips
You can now select any portion of a clip in the arrangement view and click 0 to deactivate that slice instead of the whole clip.
This might create incredible happy accidents in your studio sessions, seriously!
Visible Clip Fades
You won't have to select Clip Fades from the track channel anymore as they're now permanently visible for ease of use!
Ableton Live 10 - Max For Live Updates
"Max For Live" is now fully integrated with Ableton. It no longer requires additional installation, it will load faster, and will require much more less CPU!
Furthermore, some of "Max For Live" most famous plugins have been given a major visual and sonic update.
Conclusion
Ableton has really listened to a lot of user feedback and made improvements and updates we've been all waiting for, for a long time!
This update will be available the first quarter of 2018, and Ableton is running a discount offer until it's release.
During this promotion all Ableton Live 9 editions are 20% off!
Purchasing any Live 9 edition starting today (November 2nd) automatically entitles customers to a free upgrade to its corresponding Live 10 edition upon release.
Boxed and Download versions of Ableton Live 10 will have a cost of 99 USD for Live Intro, 449 USD for Live Standard, and 749 USD for Live Suite.
Existing Ableton Live owners should log into their accounts to check upgrade pricing.
If you're enrolled or work at any academic institution that teaches music production, you can get a 40% educational discount on a license, you can read more about it over
here
!
We now want to hear from you!
Are you excited for the new features? Is something that you were waiting for not included in this update?
Let us know in the comment section below!
Do you want to get a jump start in Ableton Live?
Download our free Ableton Starter Pack and get level up your production today!
(2 Ableton Project Files & 300 Drum Samples + Loops)
---